Tool That Can Also Be Applied to Day Division – A Tool for Distance Education Evaluation Processes is Well-received by the College Network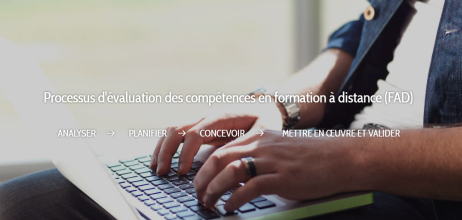 A new distance education tool called the outil réseau sur le processus d'évaluation des compétences en formation à distance (FAD) has been welcomed by the personnel of various Higher Education establishments. Born from a collaborative project between PERFORMA, the Département de gestion de l'éducation et de la formation from the Université de Sherbrooke and Cégep à distance, the tool was officially launched last October 28th during a PERFORMA General Assembly, and subsequently shown during presentations to enthusiastic audiences.
This online tool brings together PDF-based resources and videos as well as numerous support resources for evaluation, all presented according to a five-step process for evaluating competencies at a distance: Analyse; Plan; Design; Deploy; Verify.
Sophie Ringuet, an Education Advisor at Cégep à distance, and Julie Lyne Leroux, Associate Professor of Education, from the PERFORMA sector and Département de pédagogie of the Université de Sherbrooke, presented the tool at college network activities organized by the IT-Representative's Network, the Réseau des Cégeps et des Collèges Francophones du Canada (RCCFC) and by the Association pour le développement des méthodologies d'évaluation en éducation (ADMEE).
"The presentations created a great deal of buzz. Many of the participants told us that they would use the material in their own CEGEP, not only for distance education, but also in the Day Division. Some concluded that they will probably need to change their Institutional Policy for the Evaluation of Student Achievement (IPESA) in order to integrate distance education. In the end, we also received numerous requests for additional documentation on the evaluation of learning"   Ms. Ringuet noted.
To learn more about this tool:
To access the tool (in French):